Through my posts, I try to provide a lot of different station activity ideas, varying the developmental and academic skills so that you can see easy ways to work with your child at home while also having fun. Since the activity ideas are presented individually, I thought I would share some photos from a recent My Obstacle Course that I did with Andrew to show how I incorporated the activities into My Obstacle Course stations.
(Please disregard the winter pants and too small shirt he is wearing. He picked it out! It was over 100 degrees but he insisted on wearing pajamas. In fact, one of the beach ball "why" questions I got to ask was, "Why do you like wearing pajamas?" He answered, "Because they are soft and I like them." I cannot argue with that!)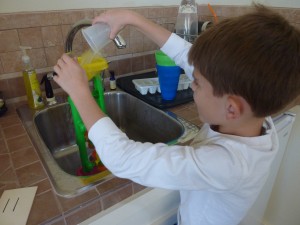 Please do not be misled by the photos of him and assume that he is always into doing things and working with me. That is not the case at all, which is why doing My Obstacle Courses with him makes such a difference. This structure allows me to engage with him, encourage him by meeting him at his level with things he is ready for and empowers him by giving him an opportunity to practice and build skills in a safe, loving environment.
It works for us because:
There is purpose and clear expectations with what we are doing. I can always tell if I have been too vague with a station activity because those are the times when he checks out! By putting in a little time thinking about the skills and concepts he needs, I can be clear with the activity and with him about what he is supposed to do.
There is a logical sequence of activity combined with movement. I use wooden pieces with numbers on them so he knows where to go next. He knows he is not going to be stuck sitting at the counter for an hour.
The stations are set up to focus on specific skills but do not take more than 5 minutes. This is why I emphasize doing things that are easy to set up or create, are already thematic (like calendar numbers or cutouts) or utilize things that people usually have already in their homes.
Here are the links to the station activities I have already posted on:
Posts on the activities shown above that you haven't seen yet are coming soon!
Engage, Encourage and Empower!