I have posted before on how much I love using sensory bins as activity stations in My Obstacle Courses (probably as much as Andrew loves having them!) and showed how to make a Sensory Bean Bin.  This Snowy Sensory Bin is perfect for a winter themed Obstacle Course and you can see it in action by watching the YouTube video clip at the bottom of this post.
Mini-Ornaments- Not Just For Trees Anymore!
When I made my first snowy sensory bin, I found a bunch of mini-ornaments for miniature trees and knew they would be perfect for this hide and seek type activity. Â (Since the ornaments come in packages with more than one, which is all you will need for this particular activity, you could get together with some friends or other caregivers and put together snowy sensory bin kits, splitting the cost!)
How to make your own Snowy Sensory Bin:
Once again, I used a storage bin that had a lid for easy storage.  The lid also serves to hold the items once found, reducing the amount of "snow" that ends up on the table or floor.  (Place a towel, sheet or a garbage bag underneath for even easier clean up!)
I found some fluffy fake snow at the store (Be careful not to buy the sheets of fake snow-like the kind used for winter village scenes. You want the fluffy snow that your child can dig through) and poured it into the bin.
I gathered up my mini-ornaments and some toys that I associate with winter.
Here is a great opportunity to add in some literacy:Â  print or write out the names of the items on a sheet of paper, leaving space so when found, the item can go next to its name. Â Example:
Bell
Snowman
Colored Light
Gift (or present)
Train
Gingerbread Man
Bow
Sled
Ornament
Log (for a log cabin)
Using a list along with the objects helps you to know if your child understands what the word means or what the item is. Â They don't need to be able to speak to show you they know!
An extension of this is to print or write out clues for the item so your child has to think about which item goes with the clue.
Once that is done, hide the items in the snow and it is ready for your child.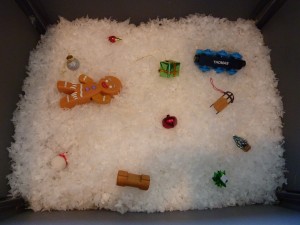 Here it is in action:
For those with sensory issues: Provide a glove or sock for your child to put over their hands so they can still dig in without having to touch the material or provide wooden spoons or sand shovels (something with a long handle) so they can use a tool to dig instead of their hands.  This is still giving them the opportunity to build motor skills by holding the handles, pushing the tool down into the snow and moving it around to find the items.
Pretend play- this is a great opportunity to engage in some pretend play skill building by talking about how cold the snow is and maybe how it snowed a lot and buried some things the people in the town need.  "Can we help the people find their things?  You bet!!"