Seasonal Sensory Bean Bin
If you walk into most preschool classrooms and/or occupational therapy rooms, chances are you will find something called a sensory bin. Â This is something that most children enjoy and if your child has sensory issues, is something that can be used to help get them more comfortable with different textures. Â I like to use this as an obstacle course station combining a sensory based activity (digging with hands into the beans) with thematic vocabulary, literacy or math skills to make it more purposeful. Â I find that with my son, he is more willing to engage in something if there is a purpose to it.
There are many different variations of the sensory bin. Â The one I am going to show you is very easy to make and when I put it together it just looked like something that belonged in an autumn themed obstacle course! Â Are you ready to dig in?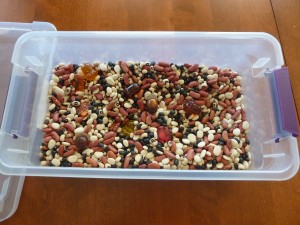 I've got all sorts of ideas for things to hide in sensory bins so stay tuned to see how easy it is to slip in literacy and math while your child is engaged in a sensory based activity.