I recently received a letter asking about activities to work on beginning letter identification and uppercase/lowercase matching. As with any concept I work on with Andrew, I begin by providing him with very basic activities and build according to what he needs. This is one of my favorite ways to approach this and lots of other skills.
Note: Remember that these station activities are not meant to be long, drawn out projects that take all afternoon for your child to complete. They have short attention spans which is why doing stations that are quick and to the point work so well.
My Obstacle Course Station Activity: Sensory Bin Letter Hunt
For this station activity I would choose some letters, either strategically if I knew he was struggling with them or randomly.
I have used magnet letters, Scrabble or Bananagram letters, wooden letters from a Melissa and Doug game or letter tiles I found at Michael's.
I combined these with a sensory bean bin that I have made. (Now that summer is approaching, it might be fun to go with the summer theme and make a sensory bin with sand! Just remember to put a towel or sheet underneath it for easy clean-up.)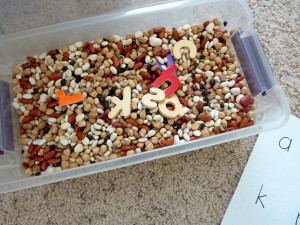 I include a sheet with the letters on it so they can be matched up and so that he knows how many more he needs to find. This does not have to be fancy, just a sheet of paper with the letters neatly written on it or even printed from the computer using a large font size.
Now that the set up is complete (super simple huh!!), it's time to start digging!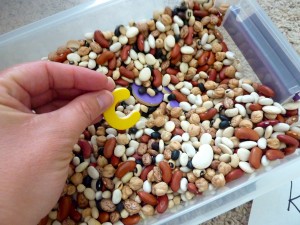 If your child knows their letters, an extension of this would be to place letters into the bin that form a word. Write the word on a piece of paper or a piece of a sentence strip and the child can put the letters in the correct order to form the word.
It really doesn't take much to make a fun activity to help your child build letter recognition skills.
Engage, Encourage and Empower!